charles lollar for congress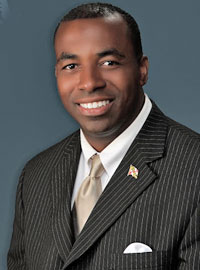 I love this guy. Part Tea Party/part Republican candidate
Charles Lollar
is running against Steny Hoyer in Maryland's 5th Congressional District and he's pushing hard into the entrenched black community and asking for endorsements.
"People value seniority, but the voters of our district have to ask themselves, 'What have I gotten with Steny Hoyer's 29 years in Congress?' The answer is, 'Not much.'"
Wait, what about the Tea Party being a bunch of racists? Oops, another Liberal lie.
EDITOR'S NOTE: I've contributed to Lollar's campaign and hope you will do the same. Just click over to the right and find Lollar under RFL 2010 House campaigns. Thank you!